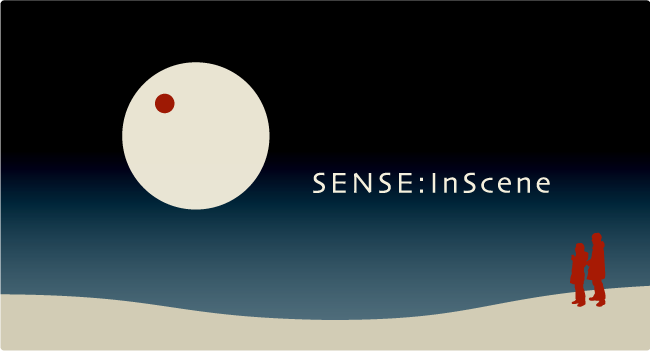 Introduction
SENSEプロジェクトは、メディアとしての香りの利用法を探るプロジェクトです。2004年4月に始まり、2006年2月にコミュニケーションツール「InScene」が完成しました。

"SENSE" is a project which researches about use of scents as media. This project started on April 2004, and produced "InScene" on February 2006.
InScene
InScene(インシーン)は、お香をメディアとした幻想的なコミュニケーションツールです。プレゼントされたお香(ICKO)に火をつけ、テーブル(KORO)に載せることで、あなたは室内に広がる香り・煌めく煙・降り注ぐ流星を味わうことができます。

InScene is a fantastic communication device which uses incenses. The sender can implant a message in incense (ICKO) with a mobile phone. When the receiver lights the incense and places it on the table (KORO), he is able to enjoy the aroma filled in the room, the lighted smoke, and the shooting stars projected on the ceiling.

また煙に手をかざすと、大切な人からのメッセージを眺めることができます。そして時がたち、たとえお香が燃え尽きても、部屋にただよう残り香が、あなたの心を存分に満たしてくれるでしょう。

And by holding or waving a hand over the smoke, the sender's message can be viewed. After the incense dies out, the receiver can soak in the remaining aroma. InScene does not only support the tele- communication, but it supports communication taken place in the space provided by InScene.

   
System of InScene
InSceneのプロトタイプはお香(ICKO)とテーブル(KORO)から構成されています。

InScene is consisted of an incense (ICKO) and a table (KORO).

ICKOには携帯電話などをもちいてメッセージがこめられます。このメッセージは、KOROの上にICKOを乗せることで再生されます。


The shape of KORO is imaged as the moon. Depending on the angle of the receiver's view, KORO changes its shape from a full moon to a half moon. And the shape of ICKO is imaged as Apollo rocket. Just as Apollo reached the moon, we hope that each message reaches the receiver.

Activities
2006/09/12: Media-Design Tour's '06, Daikanyama, Tokyo.
2006/06/14-16: ACE 2006 Demo, Hollywood, USA.
2006/04/26-30: Laval Virtual Award 2006, Laval, France.
2006/03/18: the 5th Smart IT Design Contest, Ginza, Tokyo.
2006/02/15: imgl Collection 2006, Daikanyama, Tokyo.
This prototype was created by Project SENSE (Yuichiro Katsumoto, Erika Kanai, Nadya Kirillova, Kaori Higashi, Hokuto Miura, Takashi Matsumoto, and Reiko Sasaki).